Diese Woche sind wieder einige tolle Bücher bei mir eingetroffen, allen voran dieses tolle Exemplar, das mir die Autorin selbst zukommen lies:
"Ronar" von Anke Höhl-Kayser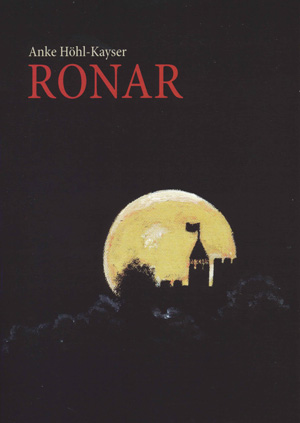 Rückentext:
Der Weg in den Nebelwald führt den zwölfjährigen Ronar zugleich tief in sein Inneres. Als Fremder und Verrückter galt er in der Familie des Schmieds, in der er als Findelkind aufwuchs. Nun bricht er auf, seine Ziehschwester zu suchen, die von finsteren Reitern entführt wurde. Im Reich der Elthen wird er bereits erwartet. Zwei mächtige Kräfte beginnen um ihn zu ringen: der weise Athanian, der ihn führt und beschützt, und Elaran, der Schwarze König, der ihn unwiderstehlich anzieht. Ronar entdeckt die Verlockungen der Macht und die dunkle Kraft seines Zorns. Im Erlernen der Zauberkunst wächst er über sich hinaus, aber verliert auch die Kontrolle über sich. Bevor er das Rätsel seiner Herkunft lösen und den Ort seiner Bestimmung finden kann, muss er viele Gefahren bestehen und sich der größten aller Herausforderungen stellen: seinem eigenen Ich.
Ein spannender und poetischer Roman, der die Leser in eine farbenfrohe, reich bevölkerte Welt der Fantasie entführt und zugleich mit zentralen Fragen unserer Existenz konfrontiert.
"Schattenwandler: Gideon" von Jacquelyn Frank
Rückentext
Seit über tausend Jahren dient der unsterbliche Gideon seinem Volk als Heiler. Als ältester männlicher Schattenwandler ist er für seine Weisheit und Besonnenheit bekannt. Doch selbst er ist empfänglich für die alles verzehrende Begierde, welche die Schattenwandler bei Vollmond erfasst wie er vor neun Jahren erfahren musste, als er sich in Magdalegna verliebte, die schöne Tochter des Dämonenkönigs. Entsetzt über seinen Mangel an Selbstbeherrschung versteckte sich Gideon vor seiner Geliebten. Doch nun bedrohen Nekromanten Magdalegnas Leben, und Gideon muss ihr Vertrauen zurückgewinnen, um sie und sein Volk zu retten.
Dieses Buch habe ich auf lesen bildet gewonnen. Danke nochmal!
Außerdem ist der zweite Teil meiner thebookdepository Lieferung bei mir eingetroffen:
"Matched" von Ally Condie
Klappentext:
In the society officials decide. Who you love. Where you work. When you die.
Cassia has always trusted their choices. It's hardly any price to pay for a long life, the perfect job, the ideal mate. So when her best friend appears on the Matching screen, Cassia knows with complete certainty that he is the one ... until she sees another face flash for an instant before the screen fades to black. Now Cassia is faced with impossible choices: between Xander and Ky, between the only life she's known and a path no one else has ever dared follow - between perfection and passion.
"My Soul to steal" von Rachel Vincent
Rückentext:

Trying to work things out with Nash—her maybe boyfriend—is hard enough for Kaylee Cavanaugh. She can't just pretend nothing happened. But "complicated" doesn't even begin to describe their relationship when his ex-girlfriend transfers to their school, determined to take Nash back.
See, Sabine isn't just an ordinary girl. She's a mara, the living personification of a nightmare. She can read people's fears—and craft them into nightmares while her victims sleep. Feeding from human fear is how she survives.
And Sabine isn't above scaring Kaylee and the entire school to death to get whatever—and whoever—she wants.
"The secret year" von Jennifer R.Hubbard
Rückentext:
How do you get over someone who was never really yours to begin with?
Julia and Colt were together for a year, but nobody knew of their secret love. Then Julia dies, and Colt's life spirals out of control. He is haunted by her memory, and things only intensify when her journal falls into his hands. Can Colt bring himself to read Julia's diary? Or will he live without answers to his burning questions about a romance that changed him forever?